This site does not intend to direct potential owners of a Pyrenean Mountain Dog towards one kennel rather than another, but to provide some useful advice to follow in the selection phase.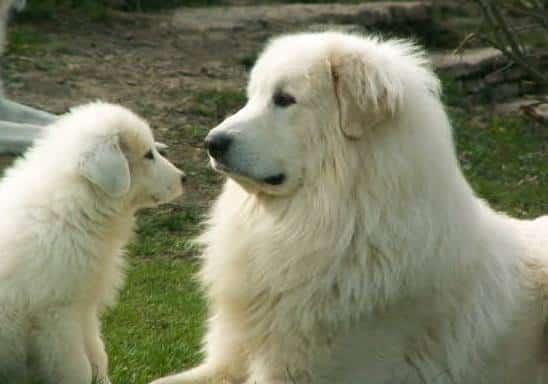 Here are some of the most important aspects to take seriously:
Inform yourself well, also through this site, on the particularity of the breed, on its physical and temperamental prerogatives, as well as on its needs, also asking current or former owners of Patou. A dog that lives in a state of discomfort, even if balanced, could show signs of restlessness over time; it is therefore good to postpone the choice if you do not have the certainty of giving the dog what it needs.
Turn to farms that, as far as possible, prove to be serious and prepared; who do not want to sell you a dog at all costs, but who show you which characteristics distinguish the breed (for better or for worse), who can provide you with a pedigree with a clear genealogy, and who are available for any future advice.
If possible, ask to see both parents. Make sure that they do not show particular aggression, difficulty moving or walking. In case of non-positive signals, it is better to abandon the purchase, even in the face of a beautiful specimen.
The pedigree would be the document which should not be ignored, but it cannot always be defined as synonymous with quality and transparency. Although it is a crime, hardly a certificate declaring a dog son of a specimen, but in reality it is not, can be unmasked as false. There are DNA tests, but performing them can be difficult, if not impossible. For this reason, it is good to always make sure that the farm is reliable, even by contacting ENCI (Italian National Cynophile Body) directly to obtain the list of certified farms, and if there are no measures in progress for any of them (clearly depending on the information that may be provided to you).
If, on the other hand, you consider yourself "experts" on the breed, you have no intention of participating in official competitions or exhibitions, and you find shepherds or simple owners ready to give you one of their puppies, you may even defer obtaining the pedigree. Be careful though, in this case the rip-offs can be around the corner; it is necessary to be truly connoisseurs of the breed.
Be wary of a price that is too low as well as a price that is too high; in both cases they can hide a non-purity of the dog, as well as a vaunted genealogy, perhaps not always truthful. Here we do not want to establish a correct figure for a Patou puppy (also because, unfortunately, even the prices of dogs follow the rules of the market, and the higher the request, the more the prices will follow the same trend); but those who want to adopt one will be able to evaluate which figure falls within an acceptable range, perhaps by asking for information from several farms.
Never buy a puppy sight unseen: book him from one litter to another or have him sent home after seeing photos. Take the time to physically visit the puppy. Remember that the dog will stay with you for years, and the choice cannot be made in a superficial and hasty way.
When approaching a litter, remember that often the unscientific rule that "the dog chooses you" must be one of the rules to follow. In fact, a non-fearful dog with good communication skills will probably come towards you so as not to leave you anymore. If the other recommendations above have also been well evaluated, then the choice is made!
The last suggestion, which we hope will never have to touch you, is the one you should follow if a breeder, even more so if he boasts great seriousness and experience, sells you a specimen which, after a few months, begins to present important pathologies (specifically related joints or bone structure in general). In this unfortunate case, don't be afraid to ask the kennel for a refund or a share in veterinary expenses, because, we warn you, these will certainly be much more substantial than the price you paid to bring your puppy home. If the breeder treats you like a bully, then consider contacting the ENCI to report the incident. If the breeder is not serious, and has made fun of other owners in addition to you, the Authority cannot fail to take the necessary measures in the face of multiple reports.